We are certified guide-interpreters and
members of the Japan Guide Association:
JGA (http://www.jga21c.or.jp/)
Please feel free to contact us.
e-mail: wildflowerwalk@nifty.com




March ああ、やっと春!もうすぐ目覚めの時
A flower bud will soon wake up.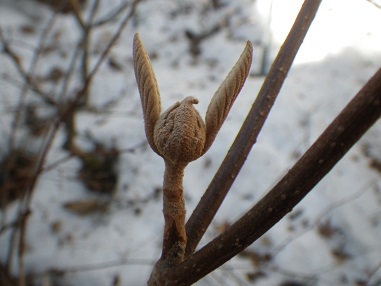 (Viburnum furcatum)
  
February, 2018
連日氷点下15℃を下回り、寒いけれど、、、

The ropes protect the garden trees from snow.








Majestic Fuji



オニグルミ 葉が落ちるとこんな顔になります。
A leaf scar of Japanese Walnut



A little lamb?メリーさんの羊かも


コケの庭、コケのインテリア

Moss is an important part of a Japanese garden. Many moss species prefer shady environments, but there also are sun-loving mosses.
If you have a glass bottle, you can easily create a tiny moss garden in your room.

A low-maintenance terrarium
with mosses and stones


Want to make one for yourself?


Time to enjoy snowshoeing



Whose footprints?
Not mine. Someone else's.



Walnut shells



"I love sunflower seeds as well as walnuts."

Breakfast time Squirrels are diurnal, active by day.




色づくサンショウ!




A rose?
No, a fungus.

キノコです。




Large Pink, a species of the genus Dianthus.

カワラナデシコ



Vexillabium nakaianum

small but graceful
ハクウンラン




A beautiful Japanese bumblebee

オオマルハナバチ



Daddy Longlegs

ザトウムシ






Recommended Walks and Hikes/
Natural History/
Plant Life in Japan/
Transportation Guide