Public Transportation

Useful Tickets and Passes
Nationwide Rail Pass: "Japan Rail Pass"

* If you plan to travel a long distance in Japan. you can save money by using Japan Rail Pass. This pass can be purchased outside Japan.

Type:

Unlimited travel on almost all JR trains nationwide, including bullet trains, limited express trains, local trains, some JR buses and the JR ferry to Miyajima.

Duration:

7, 14 or 21 consecutive days

Conditions:

Not available to residents of Japan.

Price:

7 days 29,110 yen

14 days 46,390 yen

21 days 59,350 yen

*JR passes can be purchased at "Midori-no-Madoguchi" ticket reservation counters at JR stations.

In and Around Tokyo
For moving around Tokyo, the following passes are convenient; you don't have to go to the ticket vending machine each time you take a train or bus. And it will be useful if you use them effectively in the desigrtnated period of time.
Tokyo Free Kippu (Pass)
One-day pass for subway, bus and JR train services in Tokyo. 1,590 yen: adult. 800 yen: child of 6-12 years old
Tokunai Free Kippu (Pass)
One-day pass which allows you to travel by JR in the city proper (23 wards of Tokyo )
750 yen: adult, 370 yen: child (6-12)

Toei Chikatetsu, Tokyo Metyro Ichinichi-ken (Subway One-day Pass)
one-day pass which offers you to travel by subway in Tokyo. (valid for both Toei and Eidan subway lines)
1,000 yen: adult. 500 yen: child.
* Subway passes can be purchased at ticket vending machines at subway stations.
JR東日本 「休日おでかけパス」
JR East, "Odekake Pass" for Tokyo and its vicinity
発売期間sales period: year-round
有効期間 validity: one day,
Can be used on Saturdays, Sundays, holidays. and
April 29~May5, July 20~August 31, December 29~January 3.
\2,670 for adults, \1,330 for children aged 12 or younger.


<![if !vml]>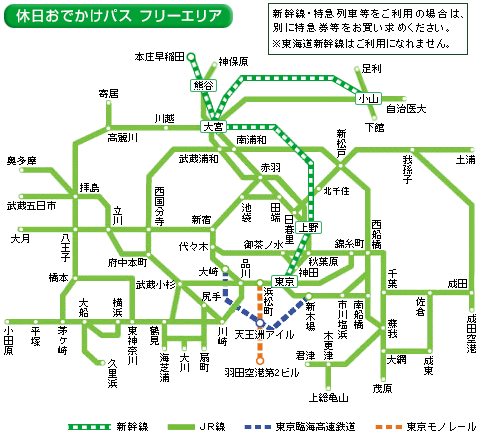 <![endif]>
Expressway Buses to Mt. Fuji Region.

There are bus services to the Mt. Fuji region from Shinjuku Bus Terminal at JR Shinjuku Station South Exit and JR Tokyo Bus Terminal at JR Tokyo Station Yaesu Exit.)
Bus fare to Kawaguchiko Sta.(Mt. Fuji Region): 1,750 yen from Shinjuku Bus Terminal and 1,800 yen from JR Tokyo Bus Terminal.
cf. 2,050 yen from Shinjuku to Yamanakako Terminal (Mount Fuji Region), 2,100 yen from Tokyo to Yamanakako.
*Click here for more info. on Shinjuku Bus Terminal.

*
Click for expressway bus schedule at JR Tokyo Sta.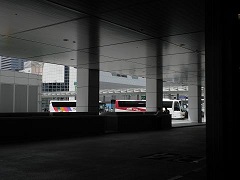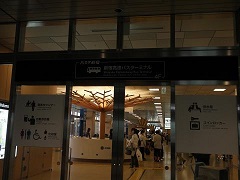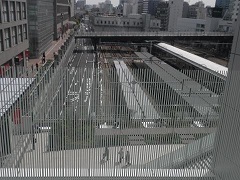 Shinjuku Bus Terminal (Busta) at the South exit of JRShinjuku Station.
At JR Shinjuku Station, follow the sign "Shin-minami Exit, " or "Busta Shinjuku."