<Tsukiji Central Wholesale Market>

access: 3 minutes7 walk fromTsukiji station, (subway) Eidan Hibiya line

or Tsukiji-shijo station, (subway)Toei Oedo line

Tsukiji Wholesale Market is one of the largest of its kind in Japan, handling fish, meat, vegetables, fruits, and flowers. It has its origin at the beginning of the Edo period (1603). The busiest time here is early in the morning; at 5 o'clock the Market begins to hum. Auction of fish begins at 5:30 a.m. vegetables at 7:00 a.m. and flowers at 7:30 a.m. The Market is closed at about 11:00 a.m. Around the market are many shops run by intermediate wholesalers. There are also restaurants where you can get breakfast at a reasonable price. If you need a little exercise to aid your digestion, it may be a good idea to explore alleys around the Market. There are places of interest within walking distance such as Tsukiji Honganji Temple, Seiroka Tower and Hamarikyu Garden.

Tsukiji Honganji Temple Open Hours: 10:00 a,m.-4:00 p.m. Admission: free.

Hamarikyu Garden Open Hours: 9:00 a.m.-5:00 p.m. Admission: \300

For further information click here.




<Sumo> -sport or ritual ? What about visiting a sumo stable?

Access: Ryogoku station, (subway) Toei Oedo Line, or

Ryogoku station, (Japan Railways) Sobu line


By the river Sumida is located the Ryogoku Kokugikan gymnasium, where three of the six annual grand sumo (Japanese wrestling) tournaments are held. Sumo, a kind of wrestling is regarded as Japan's national sport. It was originally a ritual dedicated to the Shinto god and both the wrestlers and judges are in a traditional hair style and costume. There are a number of sumo stables located in and around this district. Sumo wrestlers live with their masters and train hard every day to prepare for the tournaments. You will be welcome if you visit one of the stables to view the practice. No admission is required but reservation is necessary because the wrestlers are often on tour. Their practice is usually from 7:00 a.m. to 10:00 a.m. approximately for three hours. The Edo Tokyo Museum is also near Ryogoku station.

* For further information about sumo, contact the Japan Sumo Association.

* Sumo museum at Kokugikan gym. is open to the public when there is no tournament held there.


Access: One minute's walk from Ryogoku station

Open: 10:00 a.m. - 4:30 p.m. Monday through Friday

Closed on weekends, National holidays, before and after New Year's Day



<Kabukiza Theater> - a bit of Japanese tradition

access: Right in front of Higashi-Ginza station, (subway)Toei Asakusa line, or Ginza line

Kabuki is a traditional theatrical art which is a combination of play, music and dancing. It has its origin in the Kabuki Odori dance performed by priestesses at the end of the 15th century and was completed as an artform in the middle of the Edo period.

At Kabukiza theater, tickets for one act, called "Makumi"tickets are available. No reservation is needed but the seating capacity is 90 and the seats are on a first-come first-served basis. (150 tickets are for sale). The seats are on the 4th floor which seems a little far from the stage but there you can still fully enjoy the play. The ticket office is on the left side of the front entrance as you face the theater. The price varies depending on the length of of the act. For more detail click here.


Museums

<The Tokyo National Museum> - Japanese history and culture

access: (JR) 10 minutes from Ueno station, Yamanote or Keihin-tohoku line

(Subway) 15 minutes from Ueno station, Ginza or Hibiya line

(Keisei Railways) 15 minutes from Ueno station

The Tokyo National Museum is one of the oldest and largest museums, where archaeological relics, sculptures, paintings, and other works of art are exhibited.

Open Hours: 9:30 a.m. - 5:00 p.m.

Closed on Mondays - exception: the museum is open when a national holiday falls on Monday, and closed on the following day.

Admission: adults \420

university students \130

The site of the museum was part of the Kaneiji Temple in the Edo period. This district, Ueno, is in the northeastern quarter of Edo or Tokyo, which was believed to be an unlucky direction; and therefore the temple was built to protect the shogun and his family from evil. Today three museums of art, a museum of science, a concert hall, and a zoological park are located here.

<The Edo Tokyo Museum> - learning Japanese History

access: (Subway) Ryogoku station, Toei Oedo Line

(JR) Ryogoku station, Sobu Line

* The museum is right next to the sumo gymnasium



Open: 9:30 a.m.- 5:30 p.m.

Closed on Mondays (or the following day when Monday is a holiday)

December 28 - January 4

Admission: Adults \600

College students \480

High school students and adults over 65 \300

Junior high school (outside Tokyo) students \300

Junior high school (in Tokyo) students Free

Elementary school students Free

The museum building, designed after a storehouse of the Edo period, is an outstanding ferro-concrete structure only a step from Ryogoku station.

For more information, click here.



Special Days at Shrines - En-nichi and Flea Market

<Tomioka Hachiman Shrine>
En-nichi (festive days): the 1st, 15th and 28th every month


Antique Market: the 1st (Western antiques) and 2nd (Oriental antiques) Sundays
Click here

access: (Subway) 3 minutes from Monzen-nakacho station, Toei Oedo or Eidan Tozai line.

* Fukagawa Fudo Do (Buddhist temple) is near here.

<Togo Shrine>
Antique Flea Market: on the 1st Sunday every month click here

(In December, on the 1st and 4th Sundays only)

access: (JR) 10 min. from Harajuku station, Yamanote line


* Meiji Shrine and Omote-Sando street are within walking distance from Togo Shrine.


<Hanazono Shrine>
Antique Flea Market: every Sunday

access: (JR) 10 minutes from Shinjuku station

<Nogi Shrine>
Antique Flea Market: on the 2nd Sunday except November

access: (Subway) 1 minute from Nogizaka station, Chiyoda Line

Half-Day Walk in Tokyo

Have you read Gulliver's Travels written by Jonathan Swift? If you have, then, do you remember the main character Gulliver visited Japan, which is the only really existing country described in the story? All the other countries he visited, Lilliput, Brobdingnag, Laputa, Balnibarbi, Glubbdubdrib, Laputa, Luggnagg and Houyhnhnms are fictitious. Probably, for Swift Japan was so remote that it was among the imaginary places. After having disembarked at a port not very far from the city of Edo, Gulliver was led to the Edo castle and had an audience with the emperor (shogun). A fictional character of the West visited a real city of the East in the year 1709, a little over 300 years ago. Roads in the city may have been dusty due to volcanic ashes from Mt. Fuji which had erupted in 1707.

Course: Tokyo station - (walk) - The Imperial Palace East Garden (former Edo Castle) - (subway) - Nezu - (walk) - Yanaka (Temple district) - Ueno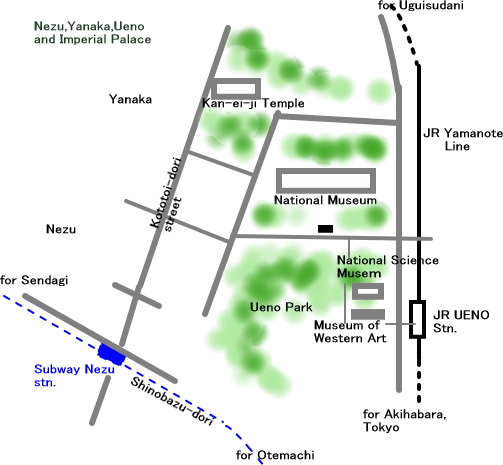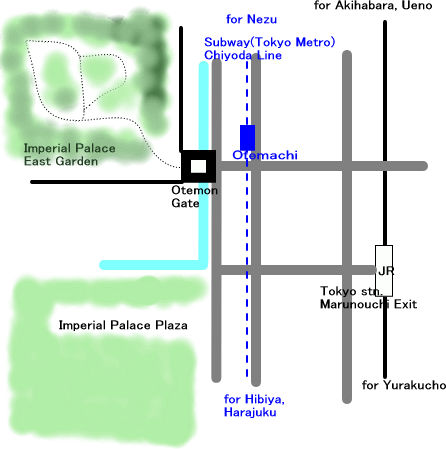 It is wonderful to enjoy wild plants right in the center of the metropolis. You will find a small but typical example of deciduous broad-leaved forest there. At this time of year blossoms of Japanese apricot are in bloom and more flowers are coming out very soon.
After visiting the castle site, you take the subway to the temple district, where you will enjoy walking through alleys to look for the remnants of old Tokyo. How many temples can you find? This part of Tokyo survived both the Great Kando Earthquake (1923) and air raids during the 2nd World War (1941-1945) though much of the city was nearly leveled in these two devastating incidents. The lanes are very narrow; still cars are driving through just like many other back streets in Tokyo. Your walk concludes at Ueno, where several museums and a zoological park are located.
*The East Garden of the Imperial Palace

Admission: free
Closed: Monday and Friday