Geology: In terms of geological structure, Japan is clearly divided into two, northeast and southwest zones. Mountains and basins in the southwest zone are generally composed of old rocks (of the Paleogene and older periods). This is true for Kansai district including Kyoto.
Climate: Located at the bottom of a basin, Kyoto has hot summers and cold winters with some snow. The mean temperature is 27.7 º C. in August, and 4.0º C. in January.
Flora and fauna: This area is located in the warm temperate zone and has a variety of broadleaved trees, such as evergreen oaks, chinquapins and deciduous trees, such as maples and hornbeams. Sugi (cedar) and matsu (pine) are also constituent species of warm temperate forests. Mountains are ablaze with autumn leaves in November.
Lacquer trees (poison oak) are gorgeous in cardinal red, but those who are allergic to this plant should keep away from them not to have a rash. In late autumn snakes and hornets are becoming less active. You rarely encounter them.

Hike1
Mount Daigo in southeastern Kyoto

I got up early on a fine autumn day and rushed to the bus stop to catch a morning flight from Haneda,Tokyo. Arriving in Osaka at around 9:00, I started walking in Kyoto at 10:30.

Daigo station where you start the hike is easily accessible by subway. You walk for a few minutes through a brand new housing complex.. Turn left at the end of the promenade through the apartment buildings. Walk about 50 meters and you will come to the end of the street. Then turn right. You will soon see Daiio-ji right in front of you. (see photo 1.) This Buddhist temple, known as the site where Hideyoshi* gave a cherry blossom viewing party in 1594, covers a huge area with several smaller temples in its precincts.. Within the area are Sambo-in with a magnificent Japanese garden. You pass by the Samboin on your left, Though it is possible just to go through the temple ground and hurry to the trail, it is worth while to see the buildings they have. Especially the five storied pagoda built in 951 is the oldest wooden pagoda in Kyoto. At the back of the temple starts the trail, which is mostly along the valley and therefore shady. Soon you will pass by another temple building. In about 15 minutes, you will find a bench and Fudo-no-taki waterfall which is just a small stream. The trail switchbacks up to a small saddle, where it turns left and continues along the ridge. Another 15 minutes walk takes you to the upper temple with several old buildings along the trail. Kaizan-do is the innermost part of the upper temple. Enjoy the view over the city of Kyoto. Then you return the way you came. as far as the main gate of the temple at the foot of the mountain. Go out of the gate, and turn right to go to Ono station. Or you can go straight ahead if you want to go back to Daigo where you started your hike. It takes about 20 minutes to Ono station which is one stop closer to Kyoto. On the way to Ono you will pass by Zuishin-in Temple.
Daigoji Temple Open: 9:00 a.m. - 5:00 p.m. (last entry: 4:30 p.m.)
*From the first Sunday of December to the end of February: Open: 9:00 a.m.- 4:00 p.m.
last entry: 3:30 .p.m.
Admission
Sambo-in: \600
Garan including the Kondo and Kyoto's oldest pagoda: \600
Access (by Kyoto Municipal Subway System) 30 min. \290
Kyoto station -(Karasuma line)- Karasuma-oike (transfer to Tozai line for Daigo) - Daigo station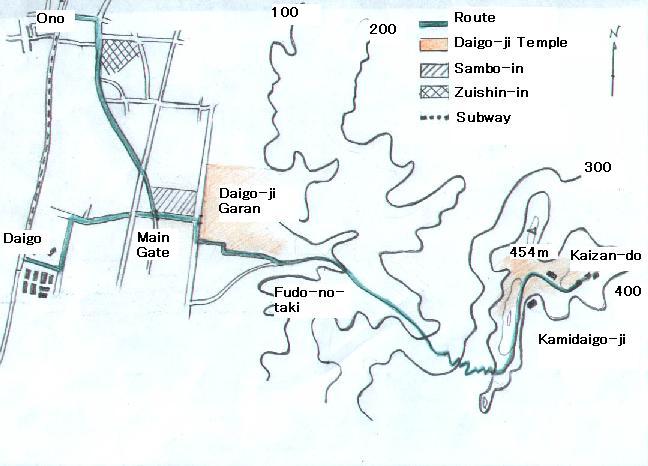 Route: Daigoji station -10 min.- Daigoji -30 min.- Fudo-no-Taki -40 min.- Kamidaigoji (Upper daigoji), Kaizan-do -40 min.- Daigoji -10 min.- Daigoji station





To return to Kyoto by subway:

Ono station -(Tozai line)- Karasuma-oike (transfer to Karasuma line for Kyoto) - Kyoto

* For more information about public transportation in Kyoto, click here.
The main part of Daigo-ji Temple (Garan) is at the foot of Mt.Daigo. On top of the mountain are some old buildings which also belong to this temple. To get to the upper temple called Kamidaigo-ji, it would take you a little over one hour. The elevation you gain is about 400 m. or 1200 ft. Mt. Daigo is 454 meters above sea level.

Since the route is all the way in the mixed forest of broad-leaved trees and cedars on the west slope of Mt. Daigo, you will encounter flowering plants which favor shady habitats. The photos show a couple of plants I observed along the trail.




As you approach the Kamidaigo-ji, you will see the sky again.