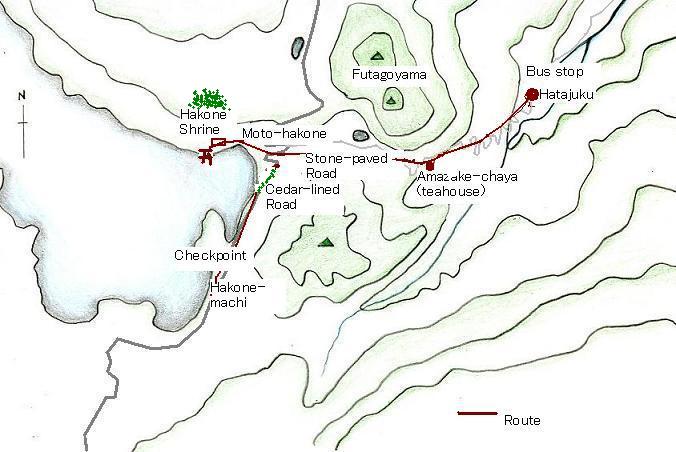 Hatajuku - Hakone-machi on the old Tokaido highway

Getting There: About how to get to Hakone-yumoto, see Hkie 1. From Hakone-yumoto to Hatajuku, it takes 15 minutes by bus operated by Hakone-tozan Tetsudo co. The bus schedule in the morning : Lv. Hakone-yumoto at 6:22, 7:25. 8:45, 9:15,9:45, 10:15,11:15 and 11:45. This schedule is subject to change.

The Trail Hatajuku, a peaceful place embraced by Hakone mountains is known for wooden mosaic work (Yosegi-zaiku), a traditional handicraft handed down from the Edo period. From here you will walk along the river Sugumo. Soon you will cross the road going up the hill several times. The walking trail mostly goes through a wooded area along the valley and you cannot expect a spectacular view but can experience the old Hakone pass and enjoy plants of the season. You may encounter monkeys on this route. Just ignore them. Do not look them in the eyes.

As you approach Moto-hakone, you will again see the sky, and a portion of Lake Ashi will apear in front of you. Look for Mt. Fuji if you have a good sense of direction and if the weather is good enough. to see the mountain. Stop for a moment at Hakone Shrine with a large red shinto gate on the shore of the lake(only 15 minutes' walk from the trail). Then walk along the lake to the check point, Hakone-machi.


Route: Hatajuku - 20 min. - Hairpin Curves -30 min. - Stone Pavement - 30 min. - Moto Hakone - 15 min - Hakone Shrine - 15 min - Moto Hakone - 20 min. - Hakone-machi

* A bit about etymology: You may have noticed that the two place names, "Shinjuku", your starting point, and "Hatajuku" have "juku" in common. The original meaning of "juku" is "station" or "stage". These names indicate that they both were once stations on the main highways.

Fares and time required
Shinjuku -1 h. 50min.(\1,150)- Hakone Yumoto - 15min. (\380)- Hatajuku...walk(1h. 40 min.)...Hakone-machi -45 min.(\930)- Hakone Yumoto -1 h. 50 min.(\1,150)


* For the limited express "Hakone" (Shinjuku-Hakone yumoto), an extra fare of \870 is required.
* To avoid crowds, it would be better to start early in the morning.
* At Togendai, you can take a bus for either Hakone-yumoto or Odawara via Hakone-yumoto.
*Tokyo-Hakone Highway Bus is operated by Odakyu. Tokyo(Shinjuku)-Hakone(Togendai): \1,980 one way. Reservation is necessary.
* JR (Japan Railways) connects Tokyo and Odawra in 70 min. by "Acty", a train which makes fewer stops than other local trains with no extra fare. Lv. Tokyo 8:21a.m. -Arr. Odawara 9:33 a.m. \1,450
(The schedule is subject to change)
* About discount tickets, Click here